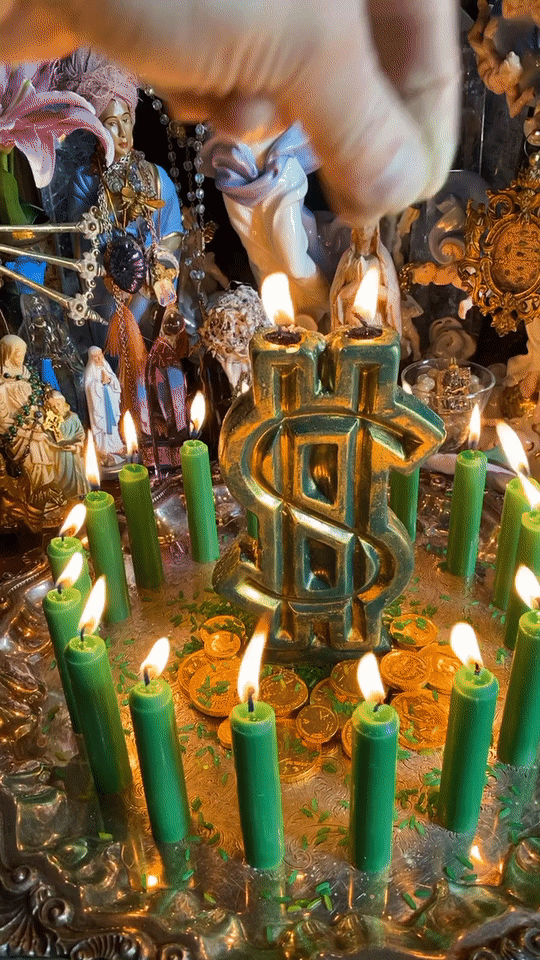 Join The Conjured Saint's ritual Cash Money & Magick Achievement Service on JUNE 29th to bring financial blessings, prosperity, and success into your life! Our ritual prosperity service dates are chosen to correspond to the most prosperous astrological events of the month when Jupiter is at its most beneficial placement.  Matching the ritual to the best placement of Jupiter boosts manifestations to draw you the most money, prosperity, financial stability, and good luck. On June 29th, Jupiter aligns with retrograde Pluto, an alignment synonymous with financial news and abundance, and The Conjured Saint is fully prepared to take advantage of this prosperous energy!

 

The Jupiter Pluto alignment is a key feature of 2020 and happens three times. The first occurred back in April 2020, and now we have the second alignment. This alignment is typically synonymous with news about the global financial markets.  On a personal level, we may be drawn to look at our financial situation or to dive deeper into the energy of abundance. When you really allow yourself to feel the energy of abundance, you realize that it is so much greater than just material wealth. Abundance is the energy that brings opportunity, that sparks new ideas, and helps you to see the riches that are already around you. Tuning into abundance on this day can feel healing and therapeutic. The Cash Money & Magick Service will call us to open our hearts to prosperity, give thanks for all we have, and welcome new blessings into our lives.

 

During the ritual service, a candle will be anointed with my proprietary blend of prosperity oils and lit for you on my sacred altar. Your personal petition will be read aloud, as the candle burns among offerings to Spirit, your guides, and ancestors. This is a group service with limited spots available. To secure your spot and call upon financial blessings this month, visit our Shop and choose The Cash Money Magick & Achievement Service for Upon checkout, leave your personal intention or goal in the "Notes" section. Please limit to one financial goal or request. 

 

Thank you, and may you be blessed with good fortune and happiness! *Reports can take up to a week or longer to be sent and your patience is appreciated. Disregard the download. 
Cash Money & Magick Achievement Service -JUNE 29th- Candle & Petition